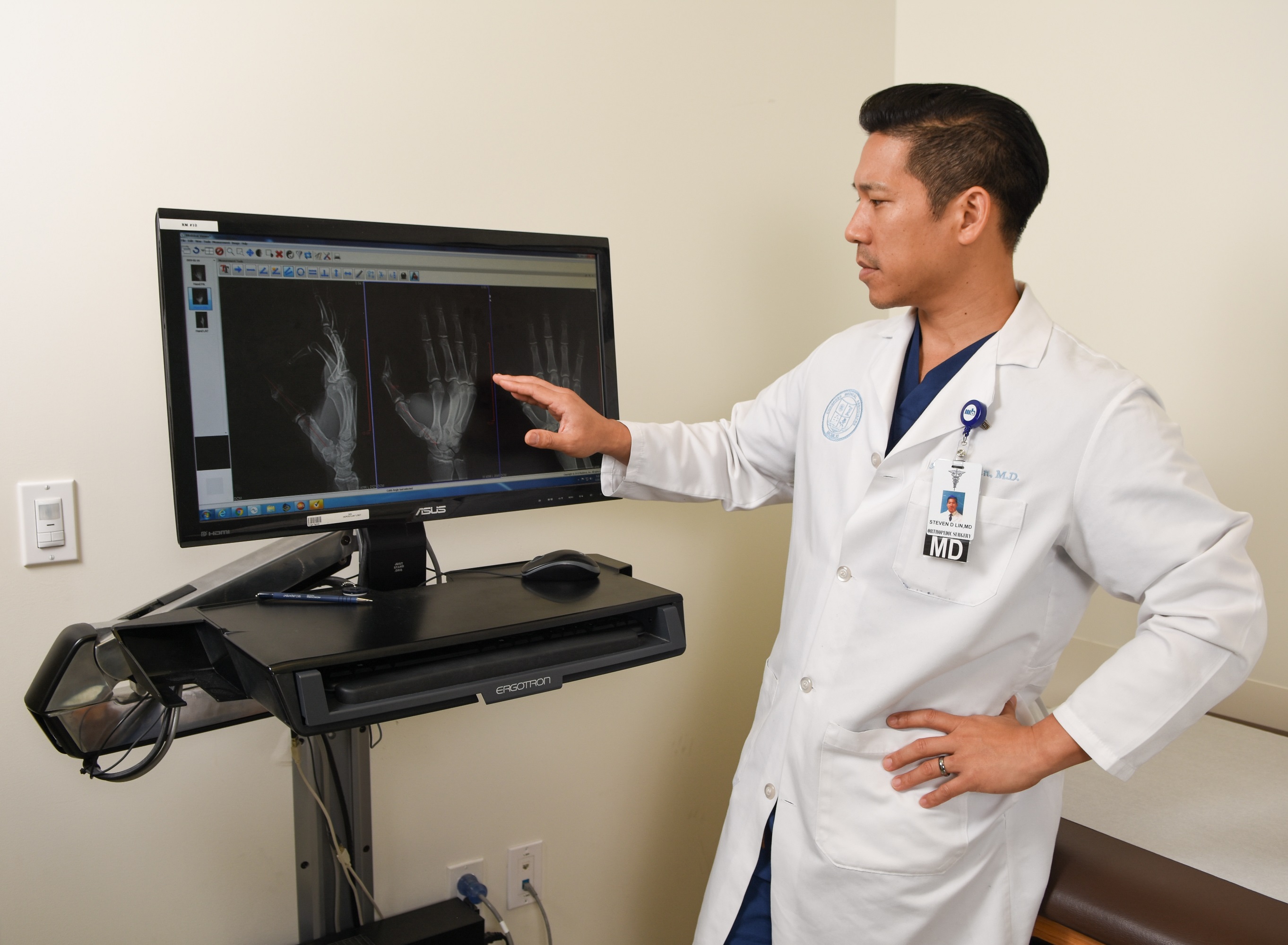 Orthopaedic Surgery, or Orthopaedics is the branch of surgery concerned with conditions involving the musculoskeletal system. Orthopaedic surgeons use both surgical and nonsurgical means to treat musculoskeletal trauma, sports injuries, degenerative diseases, infections, tumors, and congenital disorders.  They are trained specifically in all aspects of surgery of the extremities, pelvis and spine.
The field of Hand Surgery deals with both surgical and non-surgical treatment of conditions and problems that may take place in the hand or upper extremity (commonly from the tip of the hand to the shoulder) including injury and infection. The majority of hand surgeons today are graduates of orthopedic surgery, while some are practitioners of plastic or general surgery.
Orthopedic surgeons receive significant training in hand surgery during their residency training.  Some graduates elect to go on to train in an additional one-year hand fellowship with integrated orthopaedic, plastic, and vascular surgery training.  Candidates who complete an approved fellowship in hand surgery are competent in treating all injuries both to the bones and soft tissues of the hand and upper extremity and are able to handle traumatic hand and digit amputations that require a "replant" operation.  Orthopaedic surgeons are trained to reconstruct all aspects to salvage the appendage: nerves, vessels, tendons, muscles, and bones.  Orthopaedic Hand surgeons are also trained to handle complex fractures of the shoulder, wrist and elbow, and injuries that alter the mechanics of the joint function.
The Subspecialty Certificate in Surgery of the Hand(SCSH) is awarded to Board-Certified surgeons who have demonstrated qualifications in hand surgery beyond those expected of other orthopaedic surgeons by virtue of additional training, a practice characterized by volume and diversity of cases in hand surgery, or individuals who have made significant contributions to this field.
Treatment of Orthopaedic Problems
The first step of conservative treatment is to understand the severity of the problem.  For simple problems rest after an injury, ice is effective, and anti-inflammatory such as Tylenol, Aspirin or Motrin can help.  Avoid exacerbating activities initially after injury. The common sense axiom, "If it hurts, don't do it" applies to most conditions. Careful return to activities is recommended when the pain subsides after a few days.
When the pain is more severe, a professional should be involved. The benefit of a professional is to facilitate recovery and to decrease the time to recovery. Stronger medications need a prescription. Higher doses need to be monitored and carry risks of stomach upset or bleeding, and other side effects.  A physical or occupational therapist, with knowledge of injury rehabilitation can be a critical part in recovery.
When conservative measures fail to improve within a few weeks or months, a more intensive evaluation should be done. X-rays and possibly an MRI can give detailed information of the problem.  This information with a complete history and physical exam can lead to a specific diagnosis and individual treatments.